There are various elements to consider when deciding on the best option for each girl. Factors such as their level and experience in skating, skating style, and the size and shape of the foot need to be considered when shopping for girls' ice skates.
How Do You Choose Your Ice Skates?
You must consider factors that can help to make the proper ice skates purchase. 
Ankle Support
This is the most crucial to develop the correct skating technique. It also prevents injuries and posture defects. Hockey skates are stiffer and have better ankle support. However, figure skates are not so much.
Ankles are a type of joint that connects the foot to the leg, and they consist of several different bones that allow the foot to rotate, flex, and extend. They also provide stability for the body when standing or walking. Ankle support is crucial in any skating sport because it helps develop proper skating techniques and prevent injuries.
Perfect Fit?
Don't try to use the same ice skates for more years by buying something that doesn't fit. Yes, you kid will grow into it, eventually. But the injuries probabilities are too much. 
Comfort
When buying a pair of ice skates for your kids, consider the fit, good air circulation, breathability, moisture-wicking, protection from the feet getting wet and blister-free padding.
Sizing
Purchasing ice skates online can be a bit tricky. Unlike buying shoes, most ice skates are smaller than regular shoes. To avoid any complications, make sure to get the correct measurement by measuring your feet with your ice skate socks on.
Ice Skate for Girls Brands Option Guide 
Here are the top recommendations for the best ice skates for girls for different usage and reasons. Choose the best one that checks out all of the lists in your consideration. Here are some of them from the very best pick. 
Jackson Soft Skate
If you enjoy recreational figure skating, the best ice skates for you are likely those explicitly designed for this type of skating.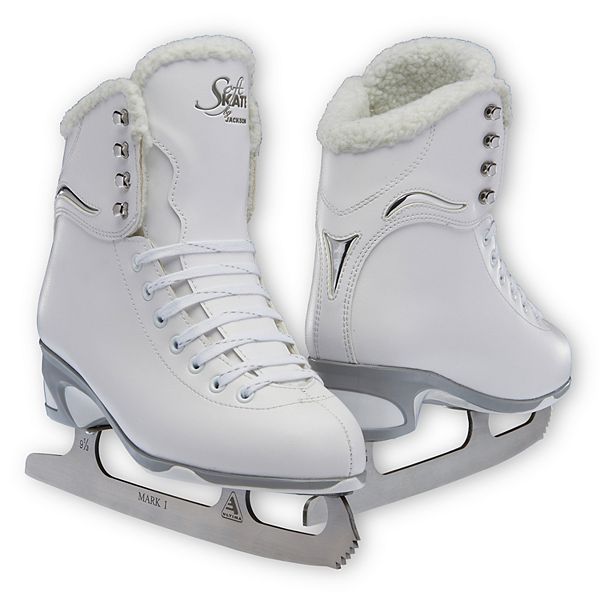 Pros
Good quality blade

Stylish 

Color variants available

Maintenance-free sole and durable 

Moderately priced

It comes in a wide range of sizes
Cons
Weak laces

Kids will outgrow them in 8 months to 1 year
Special Features
These Jackson ice skates are the best recommendation for beginner ice skaters, especially recreational ice skates.  

Foam padding keeps feet dry.

Vinyl-coated synthetic uppers, reinforced eyelets, and PVC sole for optimal support to balance and technique.

Mark, I Blade with stainless steel that doesn't need frequent sharpening.
Jackson Ultima Excel
Best Advanced Figure Skates for Girls
Pros
Comfortable

Durable

Quality Mark II blade attached
Cons
It takes a while to break 
Special Features
These are the best ice skates for girls that are more serious in the sport. 

It is excellent for twirls and turns.

The vinyl-coated upper and tongue feel sturdy in time. 

Back padding reinforced liner to avoid friction
CCM Super Tacks 9350 Ice Hockey Skates
Best Hockey Ice Skates for Girls 
Pros
Durable

High-quality blade

Ergonomic design

Stylish

Sturdy and tight 
Cons 
Not suitable for advanced players

Heavy 
Special Features
These CCM skates are exceptionally comfortable. 

Thick 7mm tongue infused with thick injected foam. 

The overall thickness protects from slashes and pucks. 

The microfiber lining enhances the freedom of movement.
The Difference Between Ice Skate For Girls and Boys 
There is no difference in ice skates for girls or boys. They may come in colors, but it doesn't matter much these days. Often ice skate for girls refers to figure skates, and hockey ice skates are for boys. Here is the difference between the two 
Figure Skates
Boot – Lighter and thinner 
Blade – Longer and thicker a toe pick in the front
Advantage – easy to gain balance due to blade and toe pick stability. 
Hockey skates
Boot – Heavier, thicker, and padded
Blade – Lighter, thinner, and deeper
Advantage – develop correct technique due to lack of a toe pick. 
FAQs
How often do kids need to change their ice skates?
Usually, once a year if you are lucky. Tween from the age of the above can use their skates longer. 
Is it essential to invest in an expensive ice skate, even when your girls are still learning?
An expensive ice skate means better quality. You need to make sure your kids are not injured during a practice. 
Can a girl wear a boy's ice skate?
If the measurement fits, the focus should be what you will do with the skate. Are you going to do figure skate, hockey, a beginner, or an advanced skater? Different usage and level of expertise demand various kinds of ice skates.  
Is the cheap ice skate safe?
It's all depends on the specifications and brands. If you worry so much, how about buy a used ice skate? Most ice skaters don't use theirs for a long time anyway, mainly if they are still growing. 
Toddler and kids outgrow their shoes. That goes the same way with ice skates. So, purchase the best ice skates for girls from different levels of skating ability and measurement. Trust only their measuring size and nothing else. If it doesn't fit, don't buy it.